Fetish Cruise CANCELLED

It breaks our heart to announce this once again, but with great regret we announce that this Saturday's Sin City Fetish Cruise is CANCELLED.
Though people had been clamouring for us to run another cruise, it would appear the double whammy of back to back Vancouver Fetish Weekend and Vancouver Pride broke most people and they aren't ready for another big ticket event JUST yet! Though we kept our ticket price for the cruise as low as possible – $45, as opposed to the $60+ that most cruises charge on that vessel – advance ticket sales lower than required to float the party.
But never fear, there's a replacement party already lined up for this Saturday. Sin City returns to Club 8×6 for our Sexy Summer Fetish Play Party, where you KNOW it's gonna get dirty, in the most fun and best way possible!
REFUNDS :
Refunds for all online purchases of cruise tickets will happen Monday / Tuesday. Though our ticket vendor will have everyone refunded in the next 48 hours, it sometimes takes people credit card companies a few further days to process it on their end before you see it appear on your balance, but everyone should get their refunds fairly quickly.
CHECK OUT PLUR'S OCEAN OF OPULENCE CRUISE AT THE OF THE MONTH!
For anyone looking to get their kinky cruise fix, we highly recommend you check out our good friends over at PLUR's Ocean Of Opulence Cruise Party later in the month, on Saturday August 27. It is a slightly higher ticket price, and has no dress code, but being a PLUR party, you know there will be lots of awesome people and kinky fun to be had.
RSVP & info on that party here : https://www.facebook.com/events/1624909787837187/
---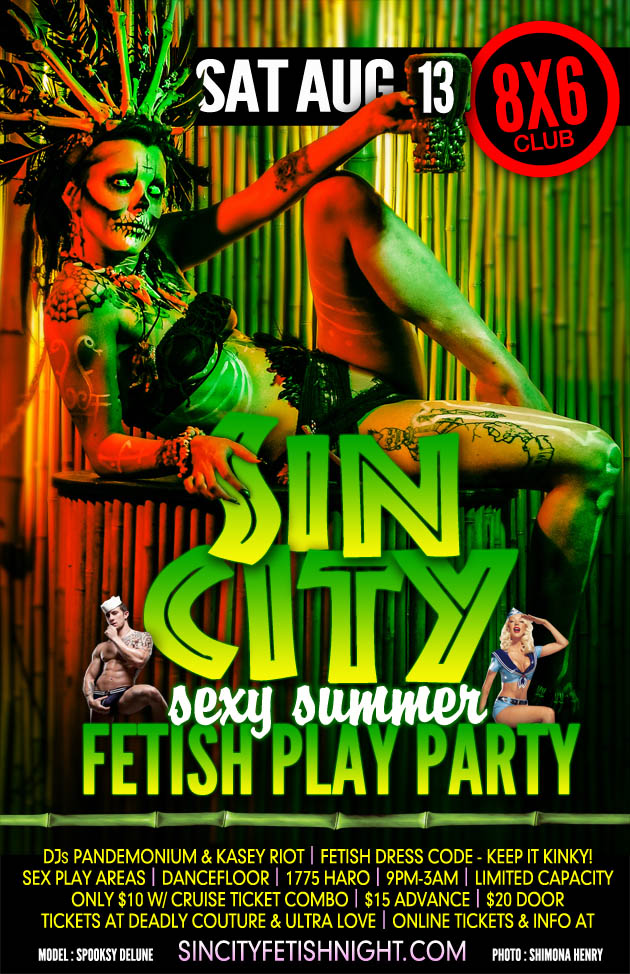 ---