240+ Photos From The Carnival Of Kink!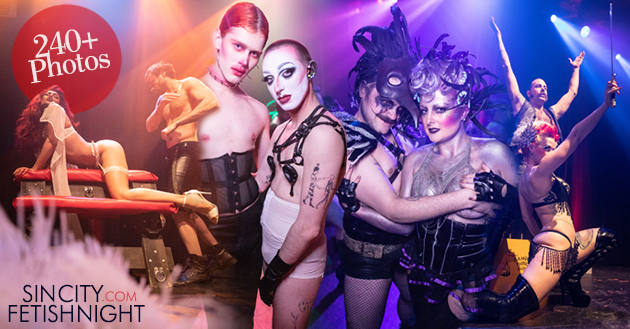 Returning the fabulous Imperial Cabaret, the 2019 Carnival Of Kink was packed with fun from beginning to end, including absolutely stellar stage performances by PM, Madam Lola, Melody Mangler and Neil E. Dee, thrilling us with a potent blend of dirty drag and sexy sideshow! This was also the debut of the new SPIN OF SIN punishment prize wheel, hosted by Mistresses Mercedes and Elena, and it was a SMASH hit, with lineups all night from eager victims! As always, a huge thank you to everyone who made Sin City their destination of choice for the night! It is always such a pleasure being surrounded by such a wide mix of age groups, body types and sizes, sexual preferences and gender identities! Not to mention all the incredible kinky carnival costumes!
Next up, the Sin 18 Year Anniversary on May 18th!
All photos courtesy of our newest photographer, Arron Leppard. Check out more of his work at his Instagram here!
Note that you can use the left and right arrow keys on your keyboard for fast scrolling through the gallery once you are in the image pop-up display browser window!
---