Jan 12 : Pervy Pub Takeover : First Party Of 2019!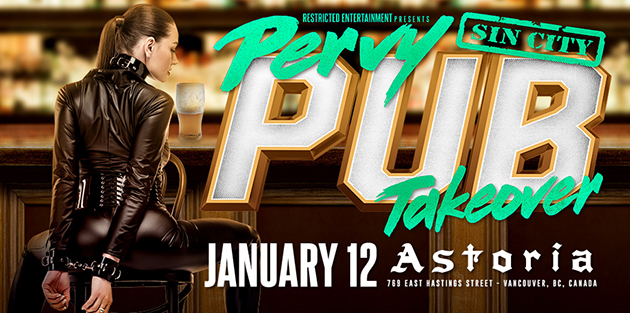 Join all your fetish friends for the first Sin City party of 2019, where we stage a full kink community takeover of the Astoria and transform the venue into a pervy playground, complete with DJs, dancing, fetish visuals, sexy socializing, kink play areas, pool tables, video games & more!
GET TICKETS RSVP FACEBOOK RSVP FETLIFE SIN CITY INSTAGRAM
---
EVENT DETAILS :
Saturday December 12
The Astoria / 769 E Hastings St, Vancouver, BC / 9pm-2am
DISCOUNTED TICKETS UNTIL JAN 1st!
CUSTOMER APPRECIATION RATE UNTIL JAN 1st : just $10!
AFTER JAN 1st : $15 advance
DAY OF PARTY: $15 at the door before 10 PM / $20 after
---
SINGLES, COUPLES, STRAIGHT, LGBTQ+, CROSS-DRESSERS, DRAG QUEENS & KINGS, LIFESTYLERS, REGULARS & NEWBIES ALL WELCOME …
Sin City is a safe and welcoming pervy party & play space for everyone!
---
DJs PANDEMONIUM, EVILYN13 & R-LEX!
Sin City is well known for having a high standard of party rocking DJs & music, where the dancefloor is always pulsating with a crazy sexual energy with all sorts of notorious naughtiness erupting spontaneously. Get wild on the dancefloor, or dance on stage with the DJs!
---
Just some of the many kinky offerings …
• Electric, High-Energy Yet Relaxed Sexy House Party Atmosphere
• Suspension & Kink Play Areas
• Bondage Furniture By Black & Blue Dungeon Furniture
• Custom Kink Visuals
• Strict Fetish Dress Code In Effect, No Exceptions!
• Any Fetish / Risque / Pervy / Sexy Outfit Will Do!
• No Unauthorized Photography Permitted Inside
• Roving Staff Photographer Available For Photos!
• Hosted by Switch Kitchen
---
LOVE KINK PLAY? WE HAVE A PLAY AREA JUST FOR YOU!
There are separated areas for spontaneous and intimate play with a consenting pervy partner, monitored at a discreet distance by the Vancouver DM Team to make sure all play is safe and consensual. If people are playing – please do not distract or touch them, and give them space. Respect your fellow partiers!
Many of our BDSM furniture pieces were commissioned and designed by Black & Blue Dungeon Furniture, local makers of fine fetish furniture! Look for the following and more at Sin :
– kneeling prayer bench
– flogging bench
– suspension frame & rope play, hosted by Rascal_21
---
STRICT FETISH DRESS CODE!
Absolutely no streetwear or regular daywear! As always, we're always on the lookout for people to showcase their awesome outfits and ideas, and any fetish outfit as per the dress code will do and will be absolutely appreciated.
✚ NOT PERMITTED :
Plain jeans, cargo pants, briefs or boxers, t-shirts, suits or plain work wear. Absolutely no street or casual wear! Lower genital nudity is not permitted.
✚ HIGHLY ENCOURAGED ATTIRE:
Suggested attire includes but is certainly not limited to – vinyl, pvc, leather, rubber, bondage, straps, chaps, full-on goth, punk, cyber, tuxedo, tailcoats / fancy dress, military / full uniform, fantasy or period costume, armour, drag / cross-dress, body paint, fancy lingerie, kilt, or any other risque costume your perverted little mind can dream up …
Use your imagination to concoct a crazy outfit that highlights the naughty sexpot in you!
---
GET TICKETS RSVP FACEBOOK RSVP FETLIFE SIN CITY INSTAGRAM
---