Aug 18 | Restricted ~ AfterHours Party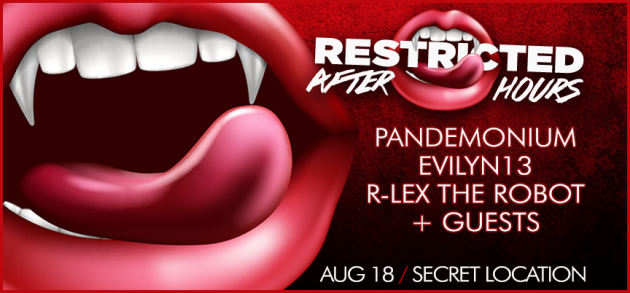 Prepare for another sweaty, sexy night with a fierce, filthy and diverse crowd of colourful and creative underground party lovers. Passwords for tickets released on our mailing lists only … make sure you are signed up! Read on for info!
Friday August 18, doors 10 PM, goes late
Restricted Entertainment
East Van Warehouse Edition
Freaky Family Get Together
Limited Capacity – Online Tickets Only
Filthy House / Dirty Techno / EDM / Bass
EBM / Synth / Dark Alternative / Retro Remixes
19+ w/ ID
NOTE: Location is secret and revealed day of event!
GET TICKETS / RSVP ON FACEBOOK / RSVP ON FETLIFE
---
RESTRICTED AFTERHOURS
Welcome to Restricted Entertainment, Vancouver's premiere purveyors of quality counter-culture events in Vancouver for over two decades! Join our extended community of weird and wonderful pervy partiers at this secret East Van location! We are beyond excited to connect with everyone, hang out, maybe make out or more, and dance the night away! This is a dance party first and foremost, with secondary chill areas, full bar, a private outdoor smoking area, custom visuals, and lots of special surprises made just for you! This is a dance focused event welcoming in all our friends from the fetish, kink, lifestyle, gay, queer, and alternative music communities, as well as just people who love the vibe at parties featuring electronic music!
Please note this event is for the people who want to dance and have fun! Bring your best attitude and be ready to make new friends & lovers! This is a private alternative space, so please treat the space with respect and discretion both during the event, as well as when arriving and departing.
S.O.P. & KINK PLAY PERMITTED
For those filthy little piggies, this is a Sex On Premises permitted space! For those who want to get extra frisky with a consenting partner, you absolutely can do so. There will be two padded play benches on site with all appropriate supplies, along with extra stanchions to help delineate the edges of the play space, as well as play monitors on site to help facilitate! However please bear in mind the play areas are an extra element to the party only and not the main focus of the party, which is dancing and sexy socializing!
---
NO DRESS CODE ~ COME CASUAL AND READY TO DANCE!
However this IS a Restricted Entertainment party, so the following themes are always encouraged and celebrated :
– fetish / kinky / harnesses / rubber
– freaky & fabulous
– cross-dress / genderfluid
– goth / cyber / punk / new wave
– we do normally appreciate savage & sickening heels & footwear, but for this party, just make sure your feet are geared up for dancing for a few hours!
---
TICKETS
Tickets are ONLY be available via our mailing list! Make sure you are signed up, so you can get the password for ticket access! Tickets are limited and this is a limited capacity event, and expected to sell out very quickly. This is an East Van location just 10 minutes from downtown. The location is kept secret and will be sent to ticket holders on the day of the event at 8 PM via email. Tickets are limited, and on a first-come-first serve basis.
MAILING LIST – MAKE SURE YOU ARE SIGNED UP!
Sin City Mailing List
https://mailchi.mp/sincityfetishnight/newsletter-signup
---
ARTISTS
EVILYN13 (Sin City / Coffin Club)
https://www.instagram.com/evilyn13/
PANDEMONIUM (Sin City / Coffin Club / PURR)

R-LEX THE ROBOT
https://www.idieyoudie.com/
+ GUESTS TBA
---
CONSENT CULTURE & BEST BEHAVIOUR EXPECTED ALWAYS
Zero tolerance policy for oppressive or aggressive behaviour — including but not limited to homophobia, misogyny, transphobia, racism, fatphobia, or ongoing unwanted physical or verbal attention. No unwanted touching, ever, always ask first, and never make assumptions that people are OK with your attention. This goes for all genders. All guests are expected to treat each other with love & above all, respect, which includes respecting people's personal space, and not violating it without explicit prior consent being asked for & given.
PLAY HARD, BUT ALWAYS PLAY SAFE!
Please make sure you know your limits, don't over-indulge, stay hydrated, and always have a way to get home safe! We highly recommend always having a party buddy or a sober designated driver within your group. And if you are at all feeling unwell or showing symptoms of any kind of illness, please be conscious of your community, do the right thing and stay home … there will always be more parties and we will see you when you are 100%!