JUNE 3 – 22 Year Anniversary Fetish Ball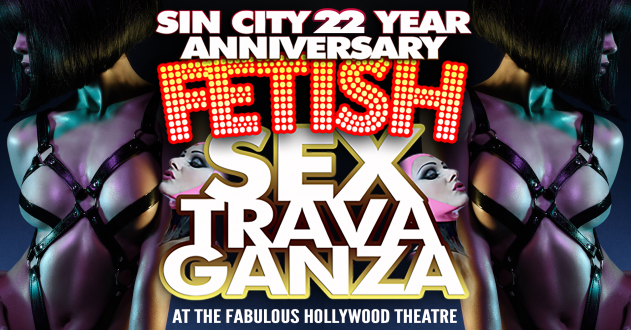 When : Saturday June 3, 2022, 9pm-2am
Where : Hollywood Theatre, 3123 West Broadway, Vancouver, BC
Tickets : $30-40
GET TICKETS / RSVP ON FACEBOOK / RSVP ON FETLIFE
---
We are THRILLED to announce that for this party, we have secured as the venue, the gorgeous HOLLYWOOD THEATER, a classic art deco movie theatre reimagined as a flexible arts and entertainment space on Vancouver's West Side, which for just this one night, we're going to re-name KINKSILANO!
---
100% immersive kinky vibe. Fetish dress code in effect. Click here for more info and a full walkthrough of the dress code! Upscale / fancy / metallic / shiny / formal outfits encouraged (but not required, all fetish outfits of all styles always welcome!)
Full size debaucherous dancefloor, custom built dance cages & dance stages, full size sound system to send those dirty beats deep into your body, all sexy systems go!
Extra decor installations, kinky carnival games, drag, burlesque & fetish stage shows!
BDSM play areas, bondage furniture, gag-worthy go-go's, gorgeous renovated movie theater venue special event space, plus lots more!
Sin City is Vancouver's longest-running, boundary-breaking fetish event, and we are pulling out all the stops AGAIN for this party!
---
GAY / STRAIGHT / LGBTQ+ / DRAG / CROSS-DRESSERS / LIFESTYLERS / ALL AGE GROUPS (19-65+) / ALL BODY TYPES / ALL GENDER IDENTITIES AND PREFERENCES / NEWBIES WELCOME!
---
JUST SOME OF THE DELICIOUS OFFERINGS IN STORE …
DIRTY BEATS W/ THE SIN CITY DJs
Deadhead
Evilyn13
R-Lex
HOSTED BY ISAAC T
SULTRY GO-GO & POLE DANCE BABES
Kosmic Kitty
Sara Tonin
Electric Obsidian
Chorosive Dark Fusion
HEADLINE DRAG & BURLESQUE & FETISH SHOWS BY
Courtney Crave (Dallas Fetish Ball, Torture Garden Dallas)
Nicky Ninedoors
Madam Lola
LIQUID SKY LASER INSTALLATION BY
Stimulating Emissions
ROVING GLAMOUR PHOTOGRAPHER
Zemekiss Photography
BDSM PLAY AREA HOSTED BY
Mistress Mercedes
CONSENT CAPTAINS ON SITE
KareBear & MJ
SPIN OF SIN HOSTED BY
Switch Kitchen
~ The rules are simple, spin the wheel, win 5 minutes of delicious torture! Always one of the most popular areas of the entire party!
---
FETISH DRESS CODE
Don't dare show up in plainclothes, plain business or plain athletic wear or you will be refused entry! Do not be the one to disappoint your friends & yourself! The decision of the dress code staff at the door are final. No effort = no entry, no exceptions. Trust us, the effort is worth it, as a 100% full fetish party is a vibe like no other.
UPSCALE / FANCY / SHINY / METALLIC / FORMAL OUTFITS HIGHLY ENCOURAGED!
But not required … any fetish outfit will do and be highly appreciated, but please do remember that in order to gain entry all outfits must be kinky in some way! Sass or sex it up, we want to see the fetishy freak in you – take the opportunity to show yourself off!
WE REPEAT – PLAIN SUITS DO NOT CONSTITUTE FETISH FORMAL WEAR AND WILL NOT BE PERMITTED!
Don't have anything fetish?
Time for a shopping trip and to treat yourself! Deadly Couture, Little Sisters and Flirty Rabbit are all great destinations for gear!
RECOMMENDATIONS / IDEAS :
Latex / rubber / harnesses / leather / straps / chaps / bondage / full-on fetish-goth / fetish-punk / fetish-cyber / FULL fetish military or fetish uniform (not just cargos!) / fantasy or period fetish costume / furry / sex kitten / armour / chain mail / drag / cross-dress / body paint / fancy lingerie / any other risque costume your perverted little mind can dream up … but please, not 'just underwear!'
GOING TOPLESS IS TOTALLY FINE!
You can go as bare as you dare, but a g-string minimum must be kept at all times. Keep those lower bits covered!
*STILL* HAVE DRESS CODE QUESTIONS?
Read an even more thorough write-up, or check out photo galleries from past parties –> HERE
---
ADULT PLAY DUNGEON AREAS
Indulge the exhibitionist or voyeur in you in the sinfully delicious Sin City dungeon play areas! Packed with sturdy, padded creations from Black & Blue Dungeon Furniture, we invite you to indulge in some public BDSM play with a consenting pervy partner! Play is NEVER expected, and there is never any pressure to participate in anything outside of your comfort zone. Watch – play – learn – whatever your pleasure!
RESPECT CONSENT AT ALL TIMES! NO TOUCHING!
Consent is mandatory at all times for men, women and all genders. Ask before you touch. Never assume you are invited into anyone's personal or physical space. If there are ANY issues please bring them up with Security immediately. No means no. Maybe means no. Silence means no. Only a clear concise YES means yes. Consent can also be revoked at any time. See people getting dirty? That's between them, and because they got consent with each other first.
---