Sin City is proud to introduce to you some of our favourite models, most of whom are local to Vancouver! All models featured are wonderfully creative, ultra sexy people who we've had the pleasure of working with on collaborations for promotional artwork and photo shoots. Several are also staff at Sin City, and all are also attendees of the night. On nights off it's common to see them partying it up in the sea of kinky eye candy!
---

Birthday : August 5
Based out of : Vancouver, BC
Interests : Castles, noise, body modifications, space, nature, medical oddities, quantum physics, math
Favourite Sin City Theme/s : Military Fetish Ball, Fetish Hospital, Rubberluv / Rubber Theme
Featured publication appearances : Tattooed Hottie Of The Week at Tattoos.com, several tattoo magazines including Canada's newest alternative lifestyle magazine XALT, many tattoo websites, many Sin City poster artwork designs, and promo ads for local Vancouver fetish stores including Deadly Couture.
VISIT LIV'S FACEBOOK PAGE!
By day, she's a medical student and by night she's out at Sin City, either as a staff member fully dolled up in kinky attire working the coat check, or tearing it up on the dancefloor on days off. She is a Leo down to a 'T' & a self-proclaimed nerd, and we love her! Liv loves unicorns, high heels, books and science. She still aspires to be an astronaut when she grows up. Most of her tattoo work was done at NEXT Tattoos & Body Piercings in Vancouver. Her tattoos include: the first movement of Fur Elise, a portrait of Beethoven, 'F holes' on her stomach – the sound holes found in the viola family, a tribute to the book "The Little Prince", various mathematical equations … and you best believe she's not finished yet!
To contact Liv or book her for a shoot, send her a message at her Facebook Page!
---

Birthday : October 30 (Devil's Night!)
Based out of : Pitt Meadows, BC
Interests : burlesque, giving and getting tattoos, painting, hiking, karaoke, costuming/crafting, driving fast, watersports, baton, video games, pranks
Favourite Sin City event/s : Carnival Of Kink
VISIT RIANNACONDA'S FACEBOOK PAGE!
Having initially started as a gorelesque performer, Riannaconda has been doing burlesque for three years now. She's performed at the notorious Bloody Betty shows, the Taboo Sex Show and West Coast Tattoo Culture conventions, at Sin City Fetish Night, Naked Girls Reading, Vandolls events, Geekenders (formerly Geeks After Dark), Tracy Cake's Sparkle Parties, Dr. Sketchy's Anti Art School, Show Us Your Wits, Cabaret du Passe, the 2012 Vancouver International Burlesque Festival, Kitty Nights and more. She studied at the Vancouver Burlesque Centre and is a member of the Screaming Chicken theatrical group.
To contact Riannaconda or book her for a photo shoot, contact her at her Facebook Page or email her at : riannaconda@gmail.com
---

Birthday : April 22
Based out of : Vancouver, BC
Interests : fag hagging, big hair, dancing, cooking, fashion, bringing the crass, sass and ass
Favourite Sin City event/s : La Fete Corsete / Corset Theme Ball, Rubberluv / Rubber Theme, Valentine's, Military
Evilyn13 is a Vancouver fashionista – involved in the burlesque scene as the saucy maid, or frilly panty-handler in the Vancouver International Burlesque Festival in 2008, 2009, and 2010. She's also co-hosted two TFD Drag Race Parties, one of which featured season four Rupaul's Drag Race winner Sharon Needles. Evilyn13 has graced the posters and flyers of Sin City numerous times and loves representing the night she also helps coordinate.
VISIT EVILYN13 ON FACEBOOK!
Evilyn13 can not only be found on the runway but also backstage coordinating fashion shows by Sin City's parent production company Restricted Entertainment, where she herds models like cats and chases them on the runway yielding a crop.
To book a photo shoot with Evilyn13 you can contact her via her Model Mayhem listing or at her Facebook profile.
---

Birthday : October 19
Based out of : Edmonton, Alberta
Interests : designing latex, dancing and performing, industrial music and festivals, traveling, high heels, corsets, cats, spiders, old muscle cars and snowboarding.
Favourite Sin City event/s : Fetish Halloween, Military Fetish Ball, Rubberluv / Rubber Theme
VISIT LACY'S WEBSITE!
Website : www.lacyblack.com
Model Mayhem : www.modelmayhem.com/LacyBlack
FB Fanpage : www.facebook.com/LacyBlack.FanPage
Twitter : www.twitter.com/#!/Lacy_Black
Pintrest : www.pinterest.com/lacy6black
Email: obsidian6angel@gmail.com
Lacy is one of our local Canadian models who has achieved international recognition through her expansive portfolio of works, specializing in Latex | Fetish | Glamour | Fashion | Alternative | & Underwater Modeling.
Featured publication appearances : Marquis Issue #55, Skin Two – Issue #63 – Pg 53, Heavy Rubber – Issue #31 – Pg 3, 74-81, Dark Beauty Magazine – Deluxe Issue #9 – Pg 152-159, Shoot Me Now Magazine – Vol. 1.11- Pg 30, Radiant Inc.: Where Perfection and Chaos Collide (Volume 1), Fetish Volume 1, Swim Volume 1, Sin City Fetish Nights flyer & poster artwork, Montreal Fetish Weekend, Northbound Leather, Conflict Graphic Novel, Hustler Taboo, Fixe Magazine, Beautiful Image Magazine, Absolute Underground Magazine. Lacy has appeared in the accompanying web publications for all the listed print appearances, and more!
To hire Lacy for a photo shoot : contact her at her website's booking page or through her at her Model Mayhem listing.
---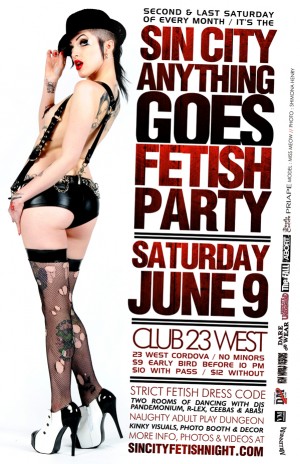 Birthday : January 18th
Based out of : Downtown Vancouver
Interests : art, tattoos & tattooing, painting, photoshoots, aliens, "conspiracy theories", nature, kink, spirituality, high heels, make-up, fashion
Favourite Sin City event/s : Military Fetish Ball, Rubber Theme
VISIT MISS MEOW'S WEBSITE!
Website : www.MissMeow.weebly.com
Facebook Page : www.facebook.com/MissMeowModel
Instagram : @MissMeowOfficial
And if you're really sneaky, you can find her less appropriate portfolio somewhere on FetLife.
Some words to describe Miss Meow:
Artist. Model. Feline. Femme. Pansexual. Capricorn. Jett Head. Vegan/Vegetarian. Spiritual Being. Tattoo Collector. Tattoo Apprentice.
Miss Meow is first and foremost an artist. Most of her artwork is an ecclectic mix of surrealism, realism, fashion illustration, portrait illustration, fan art, multimedia, tattoos and graphic art depicting fine, fancy females. As a tattoo enthusiast, it only makes sense that she would carry her artwork over into the world of tattooing. Miss Meow began her tattooing apprenticeship in the summer of 2012 at Adorned Precision Body Arts on Commercial Drive.
As far as modeling, Miss Meow obviously prefers the dark side. Most of her portfolio includes fetish, glamour, latex, fashion and more recently, erotica. She began modeling when she moved to Vancouver in 2010 and since has been published in a number of magazines and has modeled for local events including Sin City poster designs, Restricted Entertainment Fashion Shows, VALT Fashion Weekend, UG Fashion Show and local Vancouver companies including Deadly Couture and Hypershine Latex.
To contact Miss Meow or book her for a photo shoot : shoot her an email at MissMeowOfficial@hotmail.com.