VANCOUVER FETISH WEEKEND 2024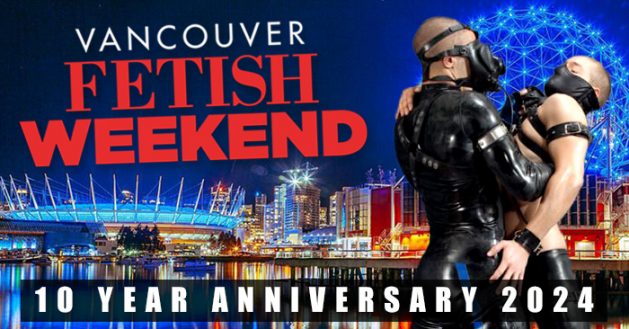 ---
VFW 2024 : JULY 25-29
TEN YEAR ANNIVERSARY
7+ EVENTS : 5 DAYS & NIGHTS
INTERNATIONAL FETISH, DRAG & BURLESQUE PERFORMERS & DJs
1000+ ATTENDEES : ONE UNFORGETTABLE WEEKEND
Meet, party, and play with hundreds of local and global fetish enthusiasts from all over the world as the international community of fetish partiers, performers, models, designers, artists and photographers descends on Vancouver at a truly world-class weekend of unforgettable fun, exotic & erotic events!
Keep scrolling for ticket, event, performer information and more!
RSVP on FACEBOOK / RSVP on FETLIFE
---
VANCOUVER :
Known as one of the most naturally beautiful cities in the world, Vancouver is also known for having an incredibly strong kinky community. Whether you're a local or a traveler, we invite you to book the time off and make Vancouver your one-week fetish holiday at the end of July! Or, make it two weeks, and stay for the massive city-wide Vancouver Gay Pride celebrations the following weekend as well, where our same production team from RESTRICTED ENTERTAINMENT is producing some huge events as well!
HISTORY :
Since it's inception over ten years ago, Vancouver Fetish Weekend has seen explosive growth, now with 500+ people on the Friday theme party, 800+ people on the Saturday main event anniversary, and 350 people on the world-famous Fetish Cruise on Sunday, and at the Grand Finale Closing Party. The FREE social events and beach days on Thursday and Monday getting bigger and bigger every year as well, with international attendees bringing home reports every year that this is the new 'DO NOT MISS' weekend on the fetish traveler's scene. This year, the lineup of events has expanded once again, with many day-time and night-time events, all with a focus on fostering highly social environments where kinksters can feel inspired, connect, create and enjoy their friendships from around the world!
---
Presented & produced by :
RESTRICTED ENTERTAINMENT
SIN CITY FETISH NIGHT
---
---