OCT 2 – PURR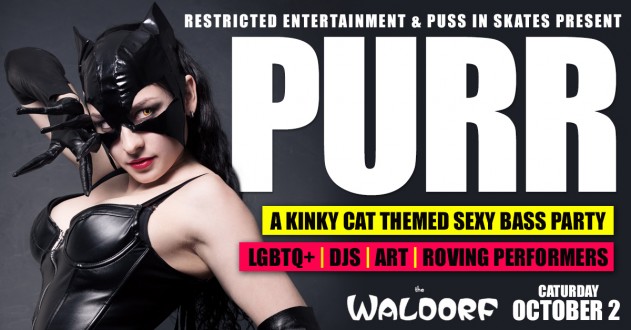 GET TICKETS / RSVP FACEBOOK / RSVP FETLIFE
Tickets now live and they are going F-A-S-T-!
---
Saturday October 2 @ The Waldorf!
Calling all Love Cats & Sex Kittens!
During the entirety of the pandemic shutdown we've had people asking when the next PURR party would be here – we're beyond excited to announce that our beloved cat-themed bass party is BACK, at a multi-room venue, with several areas to explore, complete with tropical vibes, and an outside chill area. This will be one of our first in-person shows! Please make sure to read through to the end of the event listing for important capacity & CoVid-19 consideration info!
Something tells us that this is going to be nothing short of legendary!! We couldn't be more excited to spice things up!! Get ready to DANCE!
---
Presented with Pride By :
– Restricted Entertainment
– Sin City Fetish Night
– Passion Portal
– Puss In Skates AKA Kosmic Kitty
---
Our playful PURR parties present an opportunity for cat-lovers, electronic music party lovers, kink party lovers, lifestylers and the LGBTQ+ communities to get creative, intermingle, socialize and dance in a safe, consent-based environment with sensual vibes and dirty basslines (awww yeaaah!!)
Dress up or come casual, all are welcome to come out and play! There is no dress code but colourful, creative, kinky wear is encouraged!
*Cat themed outfits are PARTICULARLY encouraged but totes not required! Get them kitty ears out!*
♥️ EPIC stage visuals provided by INEO Studios
♥ Dance cages on the dance floor!!
♥ Multiple Rooms & Areas
♥ Indoor chill room with vendors & spanking bench areas for consensual kink play
♥ Outdoor chill area for fresh air under the stars
♥ Black light makeout room
♥ Consent Captains on site to assure safety and comfort for all guests
♥ Lots more surprises in store to be announced as we get closer to the date …
---
♥ ♥ ♥ ♥ DJs ♥ ♥ ♥ ♥
Average Citizens
Pandemonium
Murpo
Full Lineup TBA
♥ ♥ ♥ ♥ VENDORS ♥ ♥ ♥ ♥
Motevotion
Lil Cheeky Bits
More TBA
♥ ♥ ♥ ♥ COMMUNITY SUPPORT ♥ ♥ ♥ ♥
By helping spread the word you can help your friends be ready for the ticket drop on Thursday August 5!
Whether you are attending or not, you can help grassroots alternative counter-culture events like this grow, simply by inviting friends, or posting a link to the event on your social media, along with a personal shout out! Thank you in advance to our extended family of art & music lovers out there for helping amplify the vibe!
♥ ♥ ♥ ♥ SAFETY ♥ ♥ ♥ ♥
All of our family of Restricted Entertainment events encourage self-expression through costume, art, music and dance, and expect mutual respect, and appreciation to be shared amongst attendees. We come together to lift each other UP and celebrate everyone's unique identity! Homophobia, transphobia, sexism, and any type of bigotry or aggressive conduct will not be tolerated.
♥ ♥ ♥ ♥ CONSENT ♥ ♥ ♥ ♥
The best events are ones where all attendees practice awareness and empathy for all their fellow humans! Please be aware of the effect your words and actions have on those around you, and always strive to conduct yourself in a way that adds to the feelings of fun, safety and security of those around you!
♥ ♥ ♥ ♥ CAPACITY INFO ♥ ♥ ♥ ♥
All signs point to dancing allowed and capacity restrictions lifting for indoor events with the next BC Health Announcement coming on Sept 7. However, as we know, as the pandemic evolves, restrictions on in-person events may change as well. We'll be monitoring ticket levels closely to make sure we are in compliance with CoVid indoor gathering regulations. In the event of permitted gathering sizes changing and coming in lower than the tickets sold, refunds for any tickets over the max capacity will be issued in order of date and time purchased – meaning, first come, first serve, to hold your place!
♥ ♥ ♥ ♥ COVID-19 CONSIDERATIONS ♥ ♥ ♥ ♥
We will be requiring proof of at least one vaccination shot for entry. While we adore the Waldorf as a venue, and it has a great open space outside, it is not easy to socially distance inside. Proof of vaccination is unquestionably what will make the majority of attendees the most comfortable attending.
As exciting as this is, not everyone will be able or willing to attend, and that's okay. Now that many province-wide restrictions have lifted, each person is making choices about their own health and safety.
We understand that not everyone will agree on what's best for right now. If you are not comfortable attending for any reason, we understand and hope to see you at future events!
The reality right now is that COVID-19 will continue to circulate at low levels with greater risk to those with lower immunity, including immune compromised and underage members of our extended community. All guidelines have been made out of respect and consideration for vulnerable friends and family.
If any aspect of the event plans for health regulation compliance don't work for you, we can certainly facilitate a refund for you. Just drop us an email at : djpandemonium@hotmail.com
---