Oct 29 – FETISH HALLOWEEN feat. DANI DIVINE!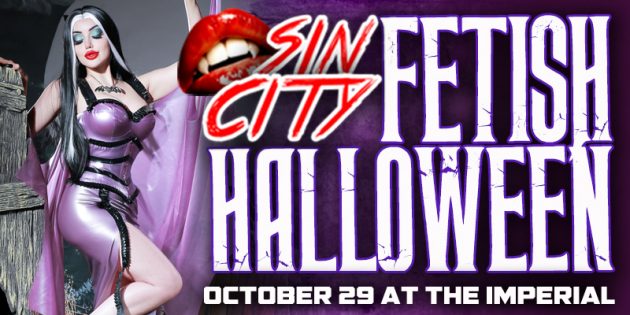 When : Saturday October 29, 9pm-2am+
Where : Imperial, 319 Main St
25% SOLD OUT IN 24 HOURS! Sin City is always GROUND ZERO for epic kinky Halloween partying! This party will be 100% sold out before you know it, so don't sleep on grabbing tickets!
🦇RESTRICTED🦇 HALLOWEEN FESTIVAL
AT THE FABULOUS IMPERIAL VANCOUVER
NIGHT #1 – PASSION PORTAL (bass)
NIGHT #2 – SIN CITY (kink)
NIGHT #3 – COFFIN CLUB (goth)
NOTE – TO BUY TICKETS, YOU WILL NEED AN ACESS CODE. This was sent out to the Sin City Newsletter. If you haven't signed up for it yet, you can still do so here at our website, and you should get an auto-response welcome email with the access code. If you can't seem to find the email after signing up, check your spam/junk/trash folders – depending on your email settings, your email handler may have moved the email there.
2 Levels / 4 Rooms Of Kinky Halloween Partying / Join The Horde Of Pervy Halloween Partiers!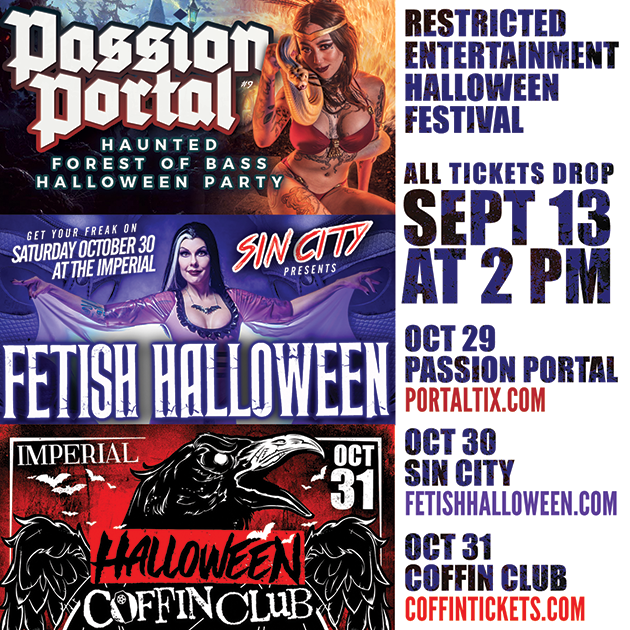 Get your freak on at the ONLY large-scale Halloween event with a fetish dress code! Now running for over 20 years, Sin City is always ground ZERO for fetish partying on what is the absolute top don't-miss marquee weekend out of the entire year.
Proudly presented by Restricted Entertainment!
🦇 QUITE SIMPLY, THE WILDEST CLUB EVENT IN VANCOUVER!
🦇 OVER-THE-TOP FETISH, BURLESQUE, DRAG & BONDAGE STAGE SHOWS
🦇 DIRTY DJs & SEXY SOCIALIZING
🦇 MASSIVE KINKY COSTUME CONTEST
🦇 SPANKING BENCHES & KINK PLAY AREA
🦇 ADDITIONAL BONDAGE FURNITURE & PRIZES DONATED BY DANGEROUS GOODS!
🦇 TRY YOUR LUCK AT THE INFAMOUS "SPIN OF SIN", HOSTED BY SWITCH KITCHEN!
🦇 HAUNTED FOREST DECORATIONS
🦇 LASERS BY STIMULATING EMISSIONS
🦇 PHOTO BOOTH, VISUALS & MUCH MORE!
🦇 IT'S COMING ONCE AGAIN, EVEN BIGGER AND BADDER THAN EVER!
🦇 QUEER / STRAIGHT / CROSS-DRESS / DRAG / LIFESTYLERS / ALL BODY SHAPES & SIZES / ALL GENDER IDENTITIES & PREFERENCES / ALL AGE GROUPS (19+ OF COURSE) / SINGLES / NEWBIES WELCOME!
🦇 YOU DO NOT WANT TO MISS THIS!
---
🦇 ENTRY CONDITIONAL ON FETISH DRESS CODE COMPLIANCE
🦇 NO CHEESEY NON-KINKY HALLOWEEN COSTUMES!
🦇 STRICT FETISH DRESS CODE. NO EFFORT= NO ENTRY!
Absolutely no street or casual wear! Plain jeans, t-shirts, suits or work clothes are not permitted. Lower genital nudity is not permitted. You must be wearing a g-string at minimum. Permitted attire includes but is certainly not limited to: vinyl, pvc, leather, tuxedo, FULL uniform or costume, fantasy or period attire, armour, cross-dressing, rubber, bondage, body paint, fancy lingerie, kilt, or any other risque or sexy costume your perverted little mind can dream up … but please, not "just underwear!"
---
🦇 PERSONAL CAMERAS & CELL PHONES ARE NOT PERMITTED!
🦇 OFFICIAL PHOTO & VIDEOGRAPHERS ON SITE
Please respect your fellow partiers' anonymity and personal space! If you want a photo, we have themed photo booths and our official staff photographers and videographers on site capturing the party in full swing, whose footage we review thoroughly before releasing! If you do not wish to appear in any of the photos or videos from the night, please simply advise the photographers upon arrival, and steer clear of the photo booth! As always, active play scenes & the dungeon are off limits to the photographers, except under direct supervision from our dungeon monitors, and with the explicit consent of all parties involved.
---
🦇 FULL SIZE SOUND SYSTEM SELECTIONS BY DEMONIC DJS :
* Deadhead *
* R-Lex *
* Evilyn13 *
Dropping a downright dirty mix of retro & 80's, industrial, rock & filthy electronica galore!
🦇 HOSTED BY ISAAC T
🦇 GO-GO, DRAG & BURLESQUE PERFORMANCES BY :
* Dani Divine *
* Madam Lola *
* Melody Mangler *
* Xanax *
---
🦇 PLAY DUNGEON AREAS
While you're not breaking your neck trying to take in the sea of eye candy, get your sexy self immortalized in our themed photo booth, or indulge the exhibitionist or voyeur in you in the dungeon play areas!
---
🦇 FIRST PRIZE, RUNNER-UP AND JUDGE'S CHOICE COSTUME PRIZES. COMPETE SOLO OR WITH A GROUP COSTUME!
🦇 $1000+ IN CASH & PRIZES TO BE WON
This is hands down the sexiest costume contest in the city!
🦇 COSTUME CONTEST OPEN TO KINKY & FETISH-RELATED COSTUMES ONLY!
Though full costumes are acceptable for this event, please remember it is first and foremost a FETISH event, so we highly urge all attendees to keep their costumes fetish or kinky in some way wherever possible!
---
🦇 HEALTH CONSIDERATIONS :
– there is some risk in attending large gatherings. The risk of Covid is never zero! By attending this event you understand the risk, and that you are in good health, and showing no Covid symptoms. Please stay home if you are not feeling well, there will be more events in the future ❤
---